Uber LARP: Steampunk
Listed by Members of LARP Passions
Calling All Readers! Like The Site Library?
Help Spread The Word...Tweet Our Crazy Awesome Awesomeness!
Sponsored Ad
go back to library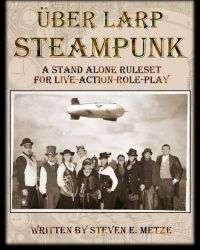 (click to view book on amazon.com)



Steven E Metze
Now the mad inspirational wonders and wild scientific theories of the award winning Über RPG: Steampunk are available as an entirely self contained Live Action Role-Playing Game. This newly designed ruleset includes A richly detailed canon world A quick and easy system for game play and character creation Immersion guidelines for stagecraft, play culture, lighting, sound, props and setting A complete ready-to-play LARP sample scenario

People who list this book:



go back to library
LARP Information
LARP Conventions
LARP Clothing & Equip.
Larp Blog Sites
Miscellaneous
Specialized Dating
Online Dating Sites
Webcam Sites
Personals / Chat Sites
Instant Messaging/VideoChat
Miscellaneous