Medieval Costume and How to Recreate It (Dover Fashion and Costumes)
Listed by Members of LARP Passions
Calling All Readers! Like The Site Library?
Help Spread The Word...Tweet Our Crazy Awesome Awesomeness!
Sponsored Ad
go back to library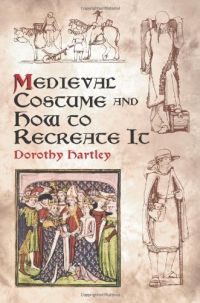 (click to view book on amazon.com)



Dorothy Hartley


This unique reference classifies the clothes and accessories of the 12th through the 15th centuries along social lines. Garments of every type, from the wardrobes of peasants and nobility, appear in over 200 period illustrations and patterns. Helpful advice covers: choosing fabrics, placement of seams, draping and folding garments, more. 203 black-and-white illustrations.



People who list this book:



go back to library
LARP Information
LARP Conventions
LARP Clothing & Equip.
Larp Blog Sites
Miscellaneous
Specialized Dating
Online Dating Sites
Webcam Sites
Personals / Chat Sites
Instant Messaging/VideoChat
Miscellaneous