Leaving Mundania: Inside the Transformative World of Live Action Role-Playing Games
Listed by Members of LARP Passions
Calling All Readers! Like The Site Library?
Help Spread The Word...Tweet Our Crazy Awesome Awesomeness!
Sponsored Ad
go back to library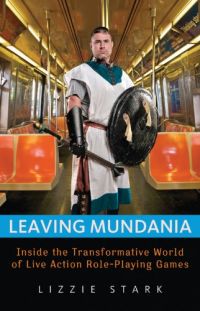 (click to view book on amazon.com)



Lizzie Stark
Exposing a subculture only beginning to enter the imagination of mainstream America, this is the story of live action role-playing (LARP) games. A hybrid of games—such as Dungeons & Dragons, historical reenactment, fandom, and good old-fashioned pretend—LARP games are thriving and this book explores its multifaceted culture and related phenomenon, including the Society for Creative Anachronism, a medieval reenactment group that boasts more than 32,000 members. The history of LARP is detailed and is shown to have arisen from the pageantry of Tudor England and is currently being used as a training tool for the U.S. military. Along the way, the author duels foes with foam-padded weapons, lets the great elder god Cthulhu destroy her parents' beach house, and endures an existential awakening in the high-art LARP scene of Scandinavia.

People who list this book:



go back to library
LARP Information
LARP Conventions
LARP Clothing & Equip.
Larp Blog Sites
Miscellaneous
Specialized Dating
Online Dating Sites
Webcam Sites
Personals / Chat Sites
Instant Messaging/VideoChat
Miscellaneous