Here Comes the Reign, Sir Guillaume!: Another collection of warped, wicked and wild stories about medieval history and life in (and around) the SCA.
Listed by Members of LARP Passions
Calling All Readers! Like The Site Library?
Help Spread The Word...Tweet Our Crazy Awesome Awesomeness!
Sponsored Ad
go back to library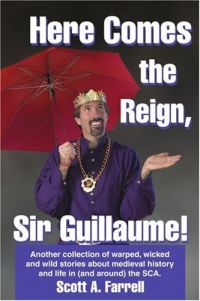 (click to view book on amazon.com)



Scott Farrell
From jester to king, Guillaume sees the Current Middle Ages from every angle. In his second collection of humorous stories and insightful reflections, Guillaume looks at the lighter side of castle building, jousting on ESPN, learning Arthurian mythology (with the help of tequila), and making topiary animals out of duct tape. Plus, just to prove that no subject is beyond the scope of his irreverent sense of humor, he also shares the laughter and chaos that took place "behind the scenes" during two reigns as King of Caid. Whether by fate or "an implausible disruption of the natural balance of the universe," Guillaume's readers are in for some royal laughs, and some touching moments, as the SCA's funniest knight wins the throne and seeks shelter from the reign in a deluge of hilarious stories, including:
Spitting Distance from Chivalry
Christmas Crazies: Forgotten Medieval Holiday Folklore
Of Arms and the Knight I Sing
To Find the SCA, Just Turn Right at Spiderman
Fangs for the Memories: Medieval Halloween Monsters
Reigny Days and Mondays


People who list this book:



go back to library



















NO STINKY DATES Amazon Ads




LARP Information
LARP Conventions
LARP Clothing & Equip.
Larp Blog Sites
Miscellaneous
Specialized Dating
Online Dating Sites
Webcam Sites
Personals / Chat Sites
Miscellaneous