Fantasy Freaks and Gaming Geeks: An Epic Quest for Reality Among Role Players, Online Gamers, and Other Dwellers of Imaginary Realms
Listed by Members of LARP Passions
Calling All Readers! Like The Site Library?
Help Spread The Word...Tweet Our Crazy Awesome Awesomeness!
Sponsored Ad
go back to library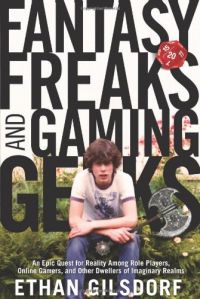 (click to view book on amazon.com)



Ethan Gilsdorf
An amazing journey through the thriving worlds of fantasy and gaming.


In this enthralling blend of travelogue, pop culture analysis, and memoir, forty-year-old former Dungeons & Dragons addict Ethan Gilsdorf embarks on a quest that begins in his own geeky teenage past and ends in our online gaming future. He asks, Who are these gamers and fantasy fans? What explains the irresistible appeal of such "escapist" adventures? And what could one man find if he embarked on a journey through one fantasy world after another?


In Fantasy Freaks and Gaming Geeks, 

Gilsdorf crisscrosses America, the world, and other worlds--from Boston to Wisconsin, France to New Zealand, and Planet Earth to Middle-earth to the realm of Aggramar. He asks D&D players, LARPers, medieval re-eanctors, World of Warcraft players, Harry Potter fans and convention goers--old, young, male, female, able-bodied and disabled--what attracts them to fantasy worlds, and for what reasons. What he discovers is funny, poignant, and enlightening.



People who list this book:



go back to library
LARP Information
LARP Conventions
LARP Clothing & Equip.
Larp Blog Sites
Miscellaneous
Specialized Dating
Online Dating Sites
Webcam Sites
Personals / Chat Sites
Instant Messaging/VideoChat
Miscellaneous